Thursday, May 18, 2022 Dear WMS Demon Families, It is hard to believe we are at that point of the year where we are celebrating the many accomplishments as well as saying goodbye to our students. For our 8th-graders, we will see them again in their new school "home" at DCHS, but we will miss their smiles and personalities. For our 6th/7th-graders, we are saying goodbye until the fall. We are so grateful for our WMS Demon families. Our last day this year is a typical school day schedule, from 8:00-3:45. This is different than in the past. At end the school year on the last day of school, WMS has held a school assembly. This year we are trying something new with our End-of-the-Year School Assembly. Our End-of-the-Year School Assembly will be broken into three. We will have one for each grade level. Our End-of-the-Year School Assembly will be held on Thursday, May 26, 2022 in the WMS gym. The End-of-the-Year School Assemblies schedule are: 6th-grade 2:00 7th-grade 2:30 8th-grade 3:00 Family members are invited to attend the End-of-the-Year School Assembly(ies). We hope to see you! Fondly, Katy Kennedy Principal Washington Middle School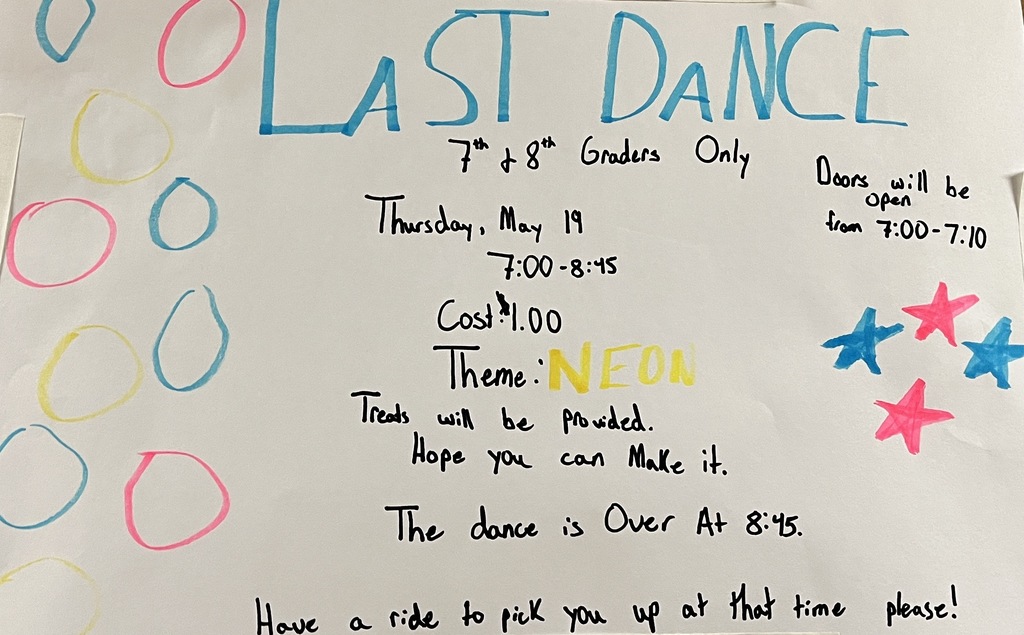 Tomorrow night is the big event! Tuesday, May 10 5:00-7:00 at WMS!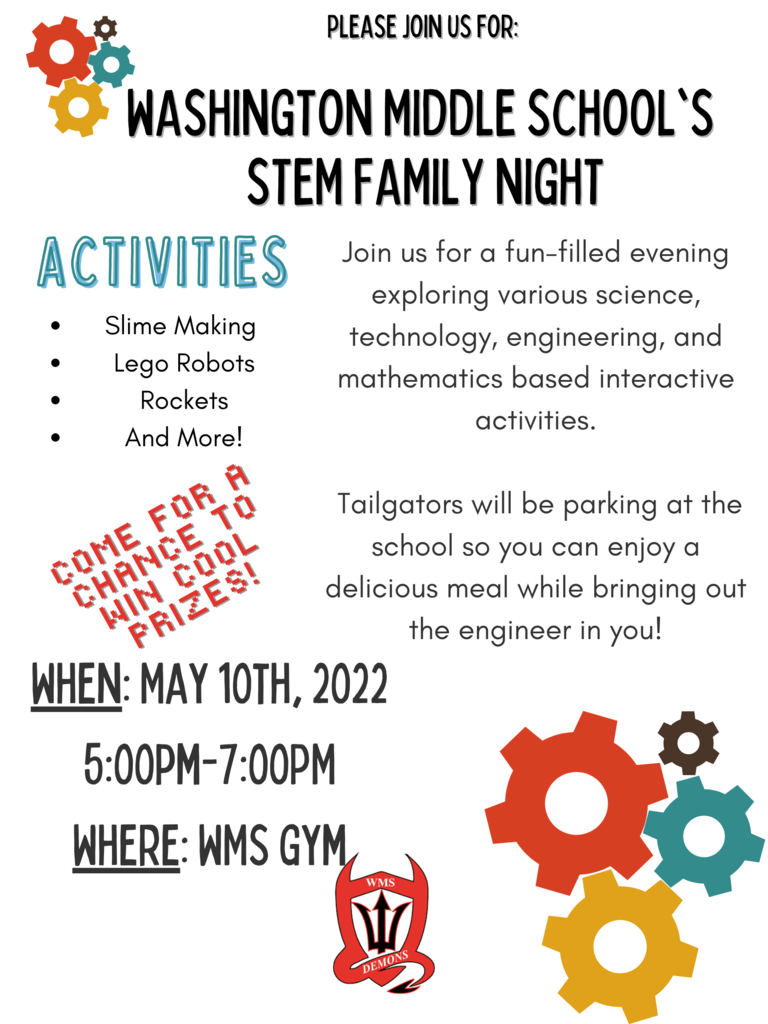 Congratulations to Alyssa Ryan, 8th-grader! She won the ABATE poster contest and won a $100 prize. Be sure to keep your eyes peeled for her artwork on a local billboard!

Check out WMS Family STEM night! All are invited! Mark your calendars for Tuesday, May 10 from 5:00-7:00. We hope to see you there!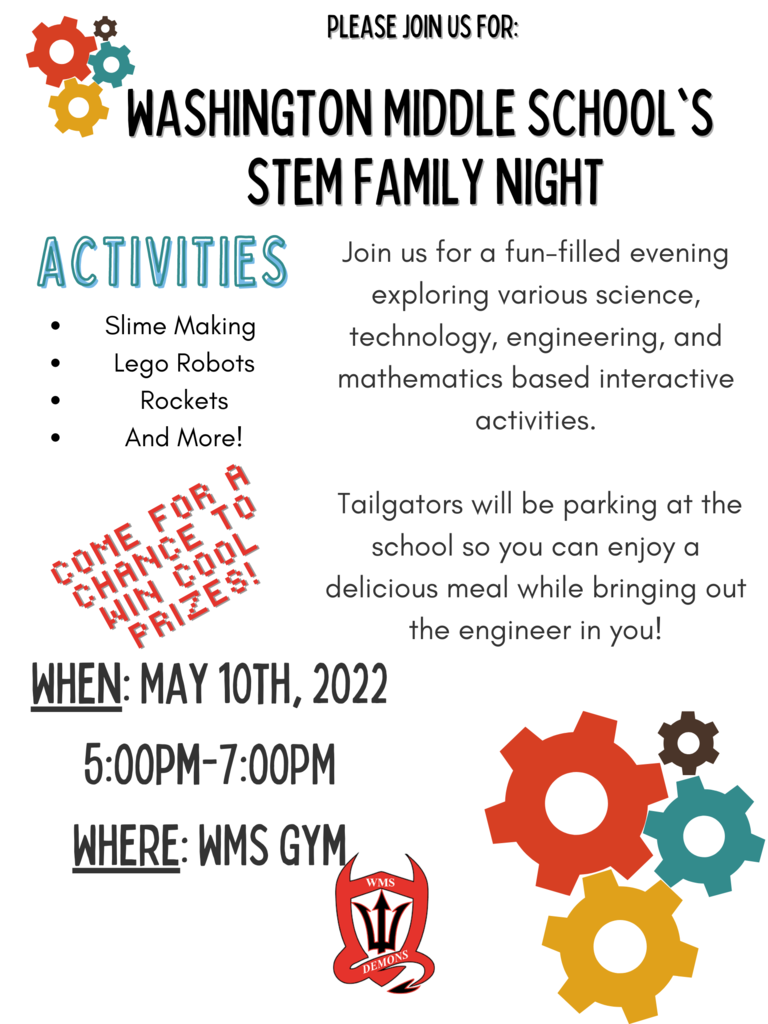 Dear Glendive Community, You'll want to check this out...

STEM Night is coming. Come check out different projects and stations, win prizes, and meet individuals in the field of science, technology, engineering, and mathematics! It will be a night of fun for the whole family. Tailgators food truck will be making a special visit to WMS. It is May 10th from 5:00-7:00 at WMS.

Dear WMS Demon families and students, We definitely missed seeing our students' smiles before Spring Break, but we are glad everyone is safe and sound. Enjoy your long weekend. We look forward to seeing all our students on Tuesday, April 19. Happy Easter! Kallie is still looking for the Easter Bunny. Not sure she is going to be successful, but I love her effort! Best, WMS Staff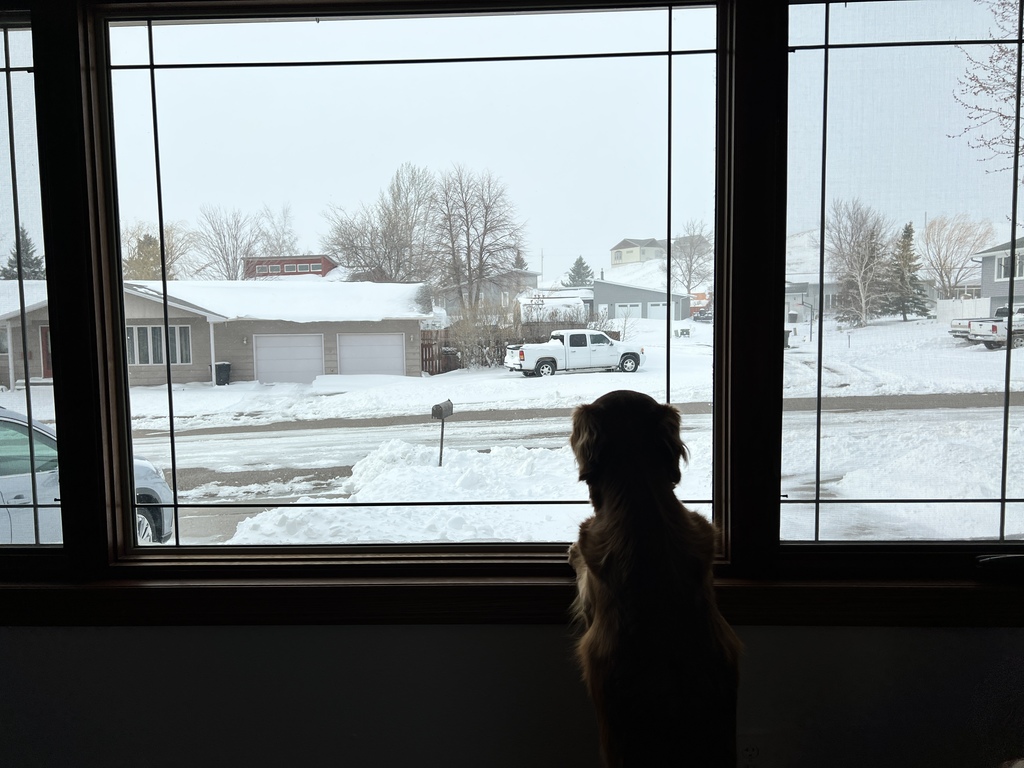 Thursday, March 31, 2022 Dear WMS Demon Families, The sun is shining. The weather has warmed up. The students are smiling more! We recently had a neighbor to our school express concern his driveway being blocked with vehicles throughout the day. Obviously, if our neighbor's driveway is getting blocked, he isn't able to pull into his driveway. I am sure we can all understand how frustrating that can be. Please adhere to the yellow painted areas on the curbs of directly in front and across the street from the school. I know we all want our neighbors to be happy they live by a Glendive Public School. Thank you for your help with this. Have a great weekend! Fondly, Katy Kennedy Principal Washington Middle School

Friday, March 25, 2022 Hello WMS Demon families, Thank you for working so hard to get our students to school on time. It is greatly appreciated. The staff at WMS and those who live in the neighborhood have noticed an increase in unsafe practices when dropping students off by vehicle in front of the building. Please remember the following safety items: Pullover to the side of the road before allowing students out of the vehicle Be sure the vehicle is stopped before students exit If students are being dropped off on the side of the road opposite of the school, please have students walk to the nearest sidewalk to use the crosswalk. Please do not drop off students at intersections or the middle of intersections. We all care about the safety of our students. Please help us make our car drop-off safe for everyone. WMS will work on a standard student drop-off procedure. With gratitude, Katy Kennedy Principal Washington Middle School

Hello WMS Demon families, 6th-grade Girls' Volleyball will begin on April 4th. Practice will be from 4:00-5:15 on Mondays, Tuesdays, and Thursdays. We are so excited for this. Thank you for your patience as we know many students were looking forward to this opportunity in the fall. Thank you to Mrs. Lensegrav and Mrs. Henderson for coaching our girls!

If you haven't already, please call to make an appointment for your incoming kindergartener! Our screening and registration is quickly approaching on April 1. We will need a copy of your child's birth certificate and immunization records to start school. This is a great time to get that done. We look forward to seeing you soon!

​Hello WMS Demon families, Mark your calendars for WMS STEM Night! We are excited to invite our families to WMS for STEM Night on May 10 from 5:00-7:00. Trust me, you'll want to come. Stay tuned for more details! Best, Katy Kennedy Principal Washington Middle School

​Hello WMS Demon families, Our first dance of the year will be on Thursday, March 17th. It's St Patrick's Day so we are encouraging you to wear green. If you wear a lot of green, you will get in for $1.00, but if you don't, the cost is $2.00. The gym doors will open at 7:00 and will close at 7:15, so you must be there by the time the doors close. The dance will end at 9:00, so you MUST plan to have your ride here promptly at 9:00. Do not wait until the dance is over to call for a ride. We know you are excited about the dance, but you need to remember that while we want you to have fun, we still need you to have good behavior - remember things like no running in the gym, you can have pop in the lobby, but you can't bring it into the gym, you can't leave early without a parent coming in to speak to Mrs. Schaaf or Mrs. Kennedy to pick you up, and so on. It's going to be a great evening, so we hope to see you there! Best, Katy Kennedy Principal Washington Middle School

Attention parents of children age birth to 6 years: