GPS will be canceling school for the remainder of the day. Please come and get your student from the schools or make arrangements for them to be picked up. Please be safe on the roads. We want to make sure that everyone is safe during this crazy time. Status of the buildings right now: We do not have water at JES and we still have power down at all of the buildings. The High School does have a backup generator that they are currently on. We do not feel the power will be back on before lunch time to feed our students. Our communication systems are not working well right now either.

We wanted to get this message out to you as soon as possible. At this point, we are still having school, but as of now, we have all 4 buildings without power because of downed power lines. The situation is being worked on and we should have more information soon. Please make sure you are checking your messages as we will be sending updates out soon. If we can't get some things situated, we might have to cancel school for the remainder of the day. This decision will be made in the next 45 to 90 mins.

Hello WMS Demon families and students, Since I last reached out regarding our WMS Girls' Basketball season, I have learned some updated information. Sorry for the changes, but I wanted to let you know as soon as possible. 6th-grade Girls' basketball: begins October 11th (no change) practice will be 4-5:30 the first and second week then alternating schedule 7th-grade Girls' basketball: begins October 18th practice time the first week will be 5:30-7:00, then alternating schedule 8th-grade Girls' basketball: begins October 18th practice time the first week will be 7:00-8:30, then alternating schedule ​WMS wrestling: begins October 18th ​practice times TBD Please remember that student-athletes must read the WMS Activities Handbook, also found on our website. When done reading, students must sign the Student Participation Statement and return to school.
https://docs.google.com/document/d/1oqD2x_vea47Y7OWjJ4LuKcobPHaOph0k8xv25_tjjPo/edit#
Student-athletes must have a current sports physical on file before practicing. Thank you so much! Best, Katy Kennedy Principal Washington Middle School


​Hello WMS Demon Families, Our school is participating in the Veteran's Letter Writing Campaign. Do you know of a veteran or an individual still serving? Please add their name to our list, with their permission.
https://forms.gle/DVeFvcHUsQDB9eLn6
Thank you! Sincerely, Katy Kennedy Principal Washington Middle School ​

PTA meeting for all parents interested TONIGHT 9/16 at 5:30 PM in the gym at Jefferson Elementary school.

Hello WMS Demon families, Just an update on 6th-grade volleyball for this school year. I know that many of you were disappointed, as we were, that we were not able to offer 6th-grade volleyball during the Fall season. However, I have great news. We have found coaches for the Spring season! Stay tuned for future communications regarding 6th-grade volleyball! Best, Mrs. Kennedy Principal Washington Middle School



Just a reminder folks, Glendive Public Schools will be out Friday September 3rd and Monday September 6th for the Labor Day Holiday. Everyone have fun and stay safe!
https://www.glendiveschools.com

Reminder: the Eckroth Instrument Display will be held in the Washington Middle School band room tomorrow from 4:00-6:30 pm. All middle school band students are welcome and encouraged to attend with their parents if they are interested in buying or renting from Eckroth. Thank you!

The Veteran's Letter Writing Campaign is looking for volunteers to be a part of our committee. If you haven't heard about us yet, please click on the following links below for more information:
https://www.glendiveschools.com/article/517895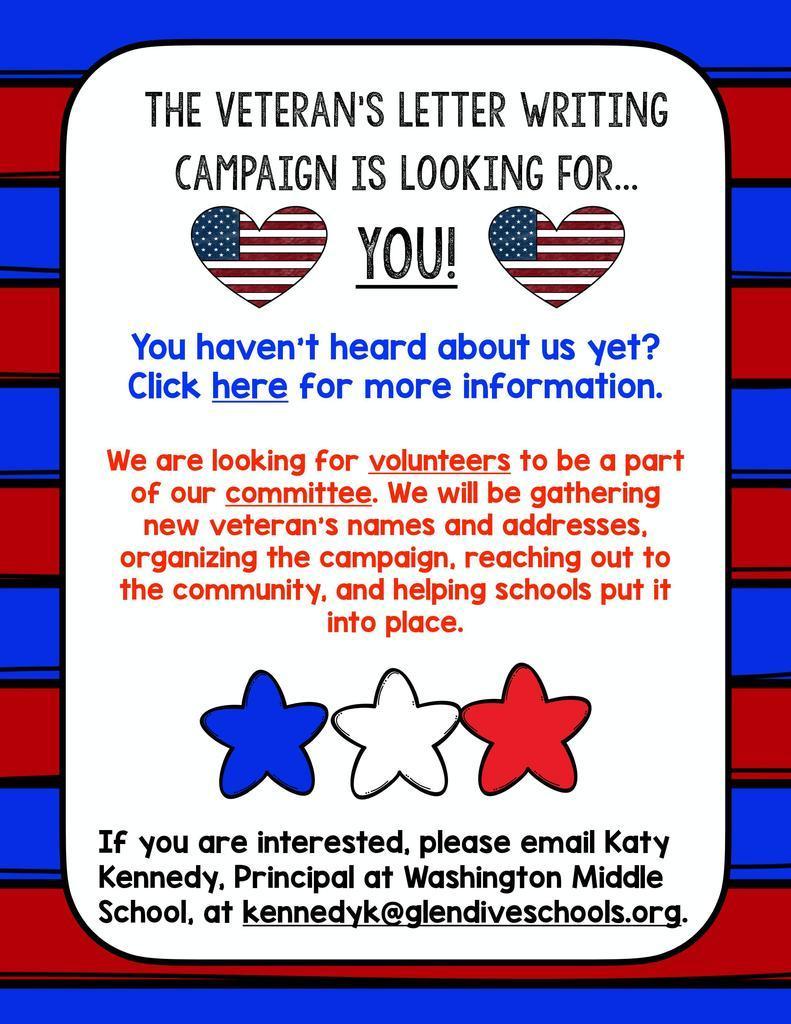 Washington Middle School is looking for a 6th grade volleyball coach and 7th and 8th grade volleyball assistant coaches. Please contact Katy Kennedy at
kennedyk@glendiveschools.org
if interested.

Hello WMS Demon Athletes, Here are the starting practice times for WMS Fall Sports. All sports will meet at the WMS gym to start practice. Coaches will communicate the rest of the practice schedule on Monday. Thank you! Monday August 16th 8th grade VB 9-10:30 am 7th grade VB 10:45 am-Noon 7/8th FB 4-6 pm WMS CC 4 pm

Hello WMS Demon Families and Students, We are so excited to see our students filling the hallways of WMS next week! The staff has been working hard to prepare for their return and their efforts are appreciated. I have included a link to our WMS Student Handbook. There is very important information in this packet for both students and families. There is required paperwork at the end of your the packet your student will need to return when school begins. Please take time to read and over review with your student. There are some changes from years past. Also, students will have an opportunity to win prizes if they enter a raffle by answering questions based on the handbook. Details to come when school starts. See the link below:
https://docs.google.com/document/d/1VyoRSIz7Tvmj8ANLkI0idjMlpELQbaGu/edit?usp=sharing&ouid=100139239167028597934&rtpof=true&sd=true
Please visit the Washington Middle School office if you need a paper copy of the handbook. Fondly, Katy Kennedy Principal Washington Middle School


Hello 6th Grade Demons, Just a friendly reminder, WMS has 6th grade Orientation is on August 18th. Students will meet on the playground on arrival at 7:54. Students will be dismissed at 3:45. WMS staff and 8th grade WEB Leaders can't wait.

Hello Athletes and Families, Below is a reminder of important events coming up. There is a meeting for parents on Tuesday, August 10th in the DCHS auditorium. There will be a special presenter, Scott Rosberg. Here are times: -Students are to attend from 4:30-5:30. -Parents and the Community attend from 6:00-7:00. -Fall Parents meeting will begin at 7:15. IMPACT testing is taking place on Thursday, August 12th in the DCHS computer lab for 7th, 9th, and 11th grade only. It is not mandatory but highly recommended by our school district if the athletes participate in contact or collision sports.

Hello all WMS families...you are invited!